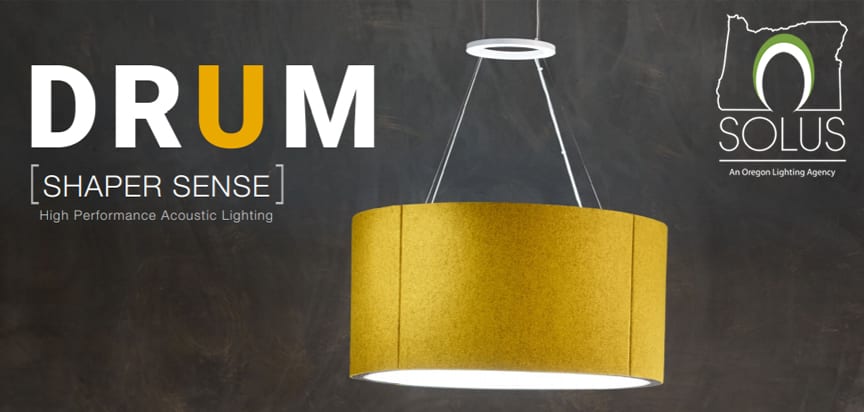 The industry-leading Shaper Sense family from Cooper Lighting Solutions has been a big hit with designers since its 2019 debut, tallying 6 awards so far, ranging from Best of Neocon Gold to Product Innovation Awards. They've partnered with FilzFelt to provide 60+ color offerings made from 100% biodegradable wool which means designers can use coordinating wall treatments with their unique patterns like Ribsy and Index Dimensional. Besides the great material choices, the Sense series offers shapes that are unique to the market. The light engine is comprised of square or round edge-lit acrylic panels which allow natural daylight to filter through when not in use. They've launched Four Drum models in addition to the Shaper Sense Box and Trapezoid. The drum has a distribution of 55% uplight and 45% downlight, light levels ranging from 3200 to 8200 and easy integration with the Wavelinx controls system. Shaper Sense Acoustic Drum works well for so many different applications, including open office and coworking spaces, healthcare, dining and hospitality. Keep reading to learn about the new models and the many great resources available from Shaper.
A Breakdown of the 4 New Drum Models
The Duo Drum brings bold solid colors into a space. The fixtures offer a choice of two felt color options, on the barrel of the fixture as well as the border edge.
The Trio Drum includes a choice of 20 uniquely designed FilzFelt pattern options, including new sculptural Erwin Hauer designs. The contemporary patterns are available in 66 felt colors, as is the base layer and the border edge, creating a stunning ensemble for a truly unique and stylish pendant.
The Index Dimensional Drum series presents handcrafted three-dimensional felt texture designs applied to cork and acoustic substrate, created by artists for FilzFelt and Shaper Sense.
The Ribsy Drum pendants feature handcrafted three-dimensional felt texture designs applied to cork and acoustic substrate, created by artists for FilzFelt and Shaper Sense.
Helpful Tools: Configurator & Acoustic Calculator
Cooper Lighting Solutions has come up with some very helpful tools, which can be found on the Product Page of each Shaper Sense Acoustic product. Once you've navigated to the page of the selected model, follow the link to the Configurable Spec Sheet. There you can play with color combinations and options until you've come up with the perfect combination. Here you'll also find a very handy tool, the Acoustic Calculator. Just plug in some numbers including the Noise Reduction Coefficient (NRC) from the acoustic tiles, to get an idea of how many acoustic tiles these fixtures replace.
Acoustic Material Cleaning & Health Features
A health benefit to using FilzFelt materials is the ability for the material to be steam cleaned up to 200 deg F. This protects the space by ensuring that bacteria and viruses don't live on these surfaces, but allows the material to meet the needs of spaces today. The acoustic sound absorption substrate material used in Shaper Sense products are cleanable by bleach and other disinfectants. This makes the materials suitable for clean environments. You'll find more detailed cleaning instructions on the spec sheets.
Light ARchitect App
Light ARchitect is an augmented reality mobile app that lets you instantly visualize light fixtures in your space. Adjust the fixture's finish selections, lumen output, mounting height, color temperature and more. Virtually turn lights on to get the full effect and take screenshots to share and email to clients or colleagues. Download the Light ARchitect app from the App Store on your phone or tablet today.
Artist Collaborations
Inspiration can come from many places: fine arts, architecture, fashion, nature, everyday objects or by seeing things through the eyes of a child. Shaper has collaborated with 9 artists to come up with their own color palettes and show what inspired them. Visit the brochure section of the product page to see the 
Art Books
 with inspiration from artist Claire Desjardins, shoe designer John Fluevog and more. There, you'll also find the 
Shaper Sense Drum brochure
 which breaks down color basics and shows the designer patterns available in the Trio Drum and coordinating hanging panels, which include the designs of late sculpturist Erwin Hauer.
Thanks for reading the Friday Five!
We hope you'll continue to follow along on a bi-weekly basis as we explore what moves and excites us in the lighting world. Our goal at Solus is to equip our community with the best tools and most up to date information. If you would like to provide feedback, shoot us a message.