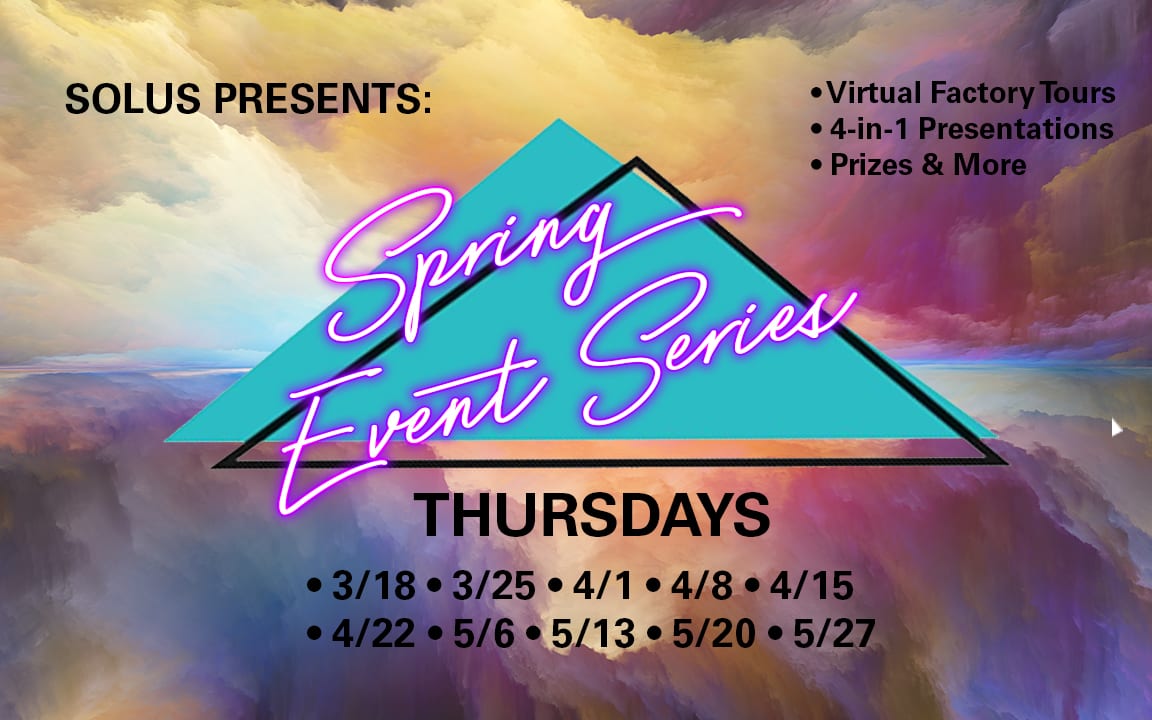 Solus Presents: Virtual Event Series
The Spring Virtual Event Series offers flexible, interactive learning opportunities as well as factory and showroom tours. Join Solus on Thursdays from March 18th through May 27th for a series of virtual events with plenty of perks.
4-in-1 Live Zoom Events: Thursdays, 11am-1pm (60 min)
We've combined the lunch & learn and tradeshow formats and created a safe, flexible and personalized way of showing you the latest and greatest lighting solutions from the Solus Line Card. Each event will feature 4 manufacturers in separate breakout rooms with rotations happening every 15 minutes. Join the meeting at 11am, 12pm or any time in between to start the 60 minute program. Sign up in advance to receive a credit to order lunch through GrubHub.
March 18th: Kreon, Inc., Estiluz USA, Gammalux & Scott Architectural Lighting
March 25th: Focal Point, Flos, Lodes/Martinelli Luce & Intense Lighting (V-Rail)
April 1st: Vibia, Lindsley Lighting, OCL Architectural Lighting & Sonneman
April 8th: Tech Lighting, Mojo Illumination, Two Parts & Cerno Group
April 15th: Zaneen, Generation Lighting, Jesco & Sonneman (systems)
April 22nd: CSL, Inter-Lux, SPI Lighting & Oxygen Lighting
May 6th: USAI, Selux, Marset & Matrix Mirrors
May 13th: ALW Lighting, Intense Lighting, Kuzco Lighting/Alora Lighting, Luminii
May 20th: Bover Barcelona, EcoSense Lighting, Spectrum Lighting & Prudential Lighting
May 27th: Bartco Lighting, Moda Light, Shaper & Ligeo
Factory & Showroom Tours (45 min)
Travel to a far-off land from the comfort of your own chair. Take a deeper dive into these lighting manufacturers as they bring you behind the scenes into their facility
April 8th: Bover: Barcelona Showroom Tour (9:00-9:45am)
April 15th: Flos: New York Showroom Tour (4:00-4:45pm)
April 22nd: Vistosi: Italy Factory Tour (9:00-9:45am)
Prizes will be raffled off to attendees of each event. There will also be grand prizes awarded to series attendees and the more you participate, the more you can win! Follow the links on our calendar to register through Zoom today!