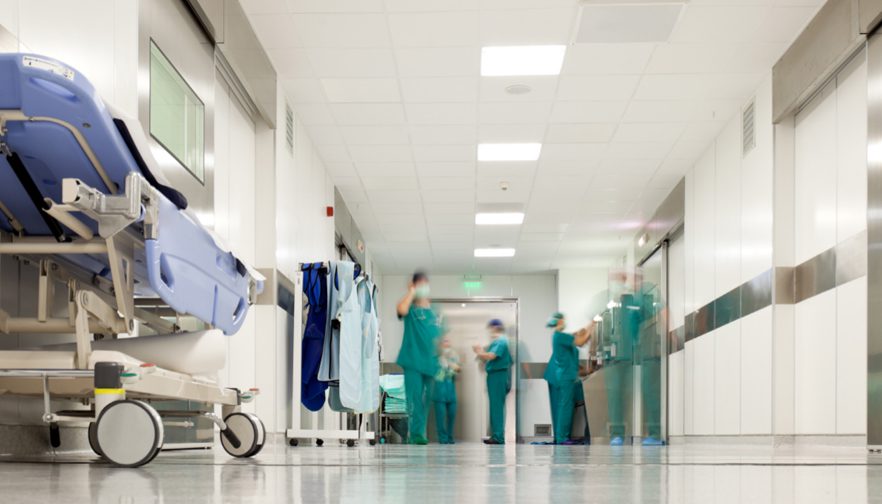 Healthcare facility design has evolved in recent years from a sole focus on function to a shift towards including aesthetic styling in order to provide its customers the most hospitable patient experience. LED lighting has helped contribute to this trend with its design flexibility and versatility. Cooper Lighting Solutions has set out to solve the need for modern, contemporary, and functional solutions that improve the patient experience with ArcMed Healthcare Solutions. This collection offers a range of products that deliver combined high performance with architectural aesthetics specifically designed for healthcare environments.
Patient Rooms
The Fail-Safe APR ArcMed Patient Recessed and APN ArcMed Patient Narrow are specifically designed for use in healthcare facilities where exam and ambient illumination is required. Both provide aesthetics for healthcare environments with a design using dividers behind the lens to create a modern, contemporary look. Both are part of the new ArcMed brand of luminaires with high performance and architectural aesthetics perfectly suited for healthcare environments. You'll find all the details on the APR Sizzle Sheet and APN Sizzle Sheet.
MRI Suites
In a space that has been dominated by downlights for decades, the Fail-Safe MRI-ASR slot and MRI-ATR troffer offer ideal options for facilities to find their own feel. The ASR slot brings sleek lines of illumination to the MRI space and the ATR troffer provides a broad range of illumination levels to provide anything from normal ambient illumination up to examination lighting for use in hybrid MRI operating room applications. Visit the MRI-ASR Sizzle Sheet and the MRI-ATR Sizzle Sheet to learn more.
The Fail-Safe Changing Views Series is a series of visual therapy luminaires that also work well in MRI suites and many other healthcare applications. Designed to bring warmth, ambience and positive energy into a variety of environments, these luminaires help create a calming influence throughout any facility. The CV Series is designed with an extremely thin profile, less than 1" deep.
The MRI-R6DNLT 6" MRI downlight from Fail-Safe is the ideal downlight for MRI suite illumination. The remote driver provides power from outside the shielded MRI room, and includes a compatible dimmer. Non-ferrous construction, absence of UV, and elimination of RF emissions so as to not interfere with the MRI operation, all allows the MRI-R6DNLT/RPS system to comply with the MRI vendor requirements for LED lighting.
Operating Rooms
In operating rooms, light levels and distributions are key requirements. Bright lights are used to illuminate the space to ensure proper visibility of the patient for surgeons and other medical staff. In addition, modern surgical suites have numerous monitors and displays so eliminating glare by optimizing the lighting layout is of utmost importance. The Fail-Safe ORL Operating Room Recessed provides supplemental, asymmetric / symmetric lighting in the surgical suite / operating room. Typically positioned around the perimeter of the operating table, the ORL is available in 2x2, 2x4, and 1x4 sizes, IP66 compliant, wet location listed, NSF rated, MILSTD 461G compliant - and is the perfect choice for the sophisticated surgical suite. Choose green LEDs for variety of benefits also.
Downlights are typically used around the perimeter of the operating theater. The FLD6BX/OR 6" LED Recessed Downlight is designed for operating room applications. Featuring a two-stage reflector with excellent light control and low aperture brightness. Lumen packages range from 1000 to 5000 with color temperatures of 3000K, 3500K, 4000K, and 5000K. Available with dim-to-warm technology, the 3000K LED warms smoothly as dimmed to 1850K, creating a warm glow within the space. IP66 compliant standard, NSF and MILSTD461G available. Fail-Safe's 4" FLD4B and 6" FLD6B provide all the benefits of a downlight, with the ratings required for a variety of specialized areas throughout a facility.
Examination Rooms
Exam rooms require high light levels for performing patient examinations and high CRI to aid in visual evaluation of patient and symptoms. The Fail-Safe FSN provides a 4" aperture, 6" grid width providing sleek lines of light with a clear bottom lens which seals the fixture preventing dust and water intrusion. Available in three fixed lengths, FSN can be grid recessed or hard ceiling recessed mounted. A selectable switch comes standard with three selectable lumen levels and three selectable color temperatures, providing FSN the flexibility to adapt to the changing needs of the space, setting, or environment. The Fail-Safe FCZ is a sealed, IP65 rated center basket troffer with high performance, visual comfort and aesthetics that's offered in three different sizes, multiple lumen packages, and optional polycarbonate lenses. Both the FSN and FCZ are excellent choices for a wide range of applications including vandal-resistant, behavioral health, medical, and hose-down.
And More
Beyond the Fail-Safe options, there are many others across the Cooper Lighting Solutions brands that will enhance the patient experience. The ArcMed Healthcare Solutions brochure shows a whole collection of purposeful, human-centric lighting solutions to promote positive healthcare experiences and outcomes, for healthier medical facilities (in every sense).
Metalux Perceive Specification Series (left) blends subtle styling with a proprietary optical system to create visual interest and provide comfortable illumination. Offered with multiple unique 3D optical patterns, Perceive creates the illusion of depth and adds dimensionality to any space. The Corelite Continua SQ4 Series is the perfect linear suspended companion product with five coordinating Perceive lens options.
Metalux InDepth Specification Series (right) is designed to create architectural ceiling topography with regressed and drop lens options. InDepth provides design flexibility and versatility by providing seven lens options (two regressed cube, one regressed curve, three drop cube, and one drop curve). The regressed lens options provide optical cut off with reduced glare. Create unique ceiling topography to bring patient rooms, offices, corridors to life. Visit the Metalux InDepth Brochure and the Metalux Perceive Brochure to explore the possibilities.
For even more healthcare lighting suggestions including exit and emergency lights, acoustic, cove, site, exterior and parking garage lighting, visit the ArcMed Healthcare Solutions brochure.
Check out Waldmann Lighting for more medical task lighting, exam lights
and patient room lighting offerings from the Solus line card.
Thanks for reading the Friday Five!
We hope you'll continue to follow along on a bi-weekly basis as we explore what moves and excites us in the lighting world. Our goal at Solus is to equip our community with the best tools and most up to date information. If you would like to provide feedback, shoot us a message.