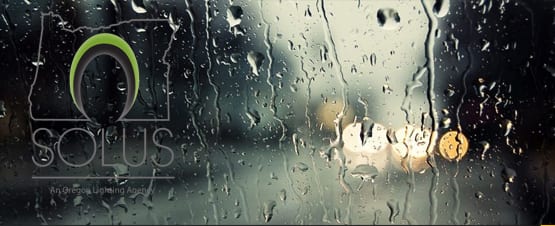 After over a week of Pacific Northwest wildfires and poor air quality, I don't think we've ever been happier for the rain to come. As the rainy season approaches, we'd like to revisit some high quality, wet-listed luminaires from the Solus Linecard. We represent a number of trusted lighting manufacturers who engineer durable offerings that can withstand our wet outdoor environment. Here are 5 of the latest and greatest UL Wet-Listed architectural lighting technologies from the Solus Linecard.
LIGMAN LIGHTING - LIGHTSOFT BOLLARD
The innovative reflector technology of 
Ligman's Lightsoft
 bollard guarantees a high degree of efficiency and optimal visual comfort. Lightsoft has been developed to have excellent controlled downward light providing wide spacing ratios. It has three light shield accessories with different light distributions. The Lightsoft is available in a cylindrical or square shape design with two different heights. The Lightsoft bollard comes standard with a unique waterproof internal driver housing compartment that is situated at the top of the ople to stop water and dust from entering the electrical components. This fixture is supplied completely wired with powercord and waterproof gland from the driver enclosure to the base of the bollard ensuring quick, trouble-free installation. This product has an optional integrated 12w recessed accent light that can be used for providing low glare illumination and additional light on pathways, as well as providing backlight to accent foliage or landscape elements. All Ligman fixtures can be manufactured using a special pre-treatment and coating process that ensures the fixture can be installed in natatoriums as well as environments with high concentrations of chlorine or salt.
SELUX - M60 WET LOCATION
Selux M60 LED Wet Location
 is a durable luminaire for lighting designers and architects who are looking for a fixture that can withstand the unfavorable elements in the environment, while maintaining its high performance and continuous lines of light. The M60's aluminum extrusion is 2 3/8" wide and features an LED optimized impact resistant snap-in acrylic lens with exceptional uniformity and tool-less access to the optical chamber. Available in recessed, stem, wall or surface mountings and a variety of optics for many applications including wall washing, wall grazing and batwing distributions. Selux is a known innovator in the lighting industry and the quality, durability and highly engineered details stand out in their products.
ECOSENSE - TROV FLEX L09
Ecosense recently released the IP67 silicone, flexible luminaire with optics. TROV Flex L09 packs 2-step color consistency into a durable package suitable for both exterior and interior use. Optics include Graze, Elliptical, and Assymetric, with 5W per foot and 9W per foot models.  The ultra-discreet profile makes it an ideal fit for applications where space is a premium and a specific optic is desired. The TROV Flex comes in 90 CRI. It is field cuttable every 6 inches, making it a fast, flexible solution for many applications.
BARTCO - FATHOM
The Fathom Series from Bartco Lighting employs LED technology to achieve a UL Wet Rating in an entirely new way from its industry predecessors. By exploiting the full capabilities of wet rated components on the interior of the luminaire, the need for unsightly sealing hardware has been eliminated. Imperceptible weeps and neoprene gaskets allow moisture to wick away, while also mitigating insect intrusion. The reach of Bartco Lighting's elegant designs has been extended beyond the building walls. This series offers modern and minimal luminaires that naturally complement exterior environments in both single fixtures and continuous, unbroken streams of light.
LUMINII - WET RATED BUILT FIXTURES
Luminii's family of wet rated built fixtures seals the LEDs in resin, giving the luminaire high threshold for heat and humidity. The 24 volt fixtures are made to order up to 144" and can be linked up to 35' depending on output. There are many different profiles and mounting options available in Luminii's wet rated family of built fixtures.