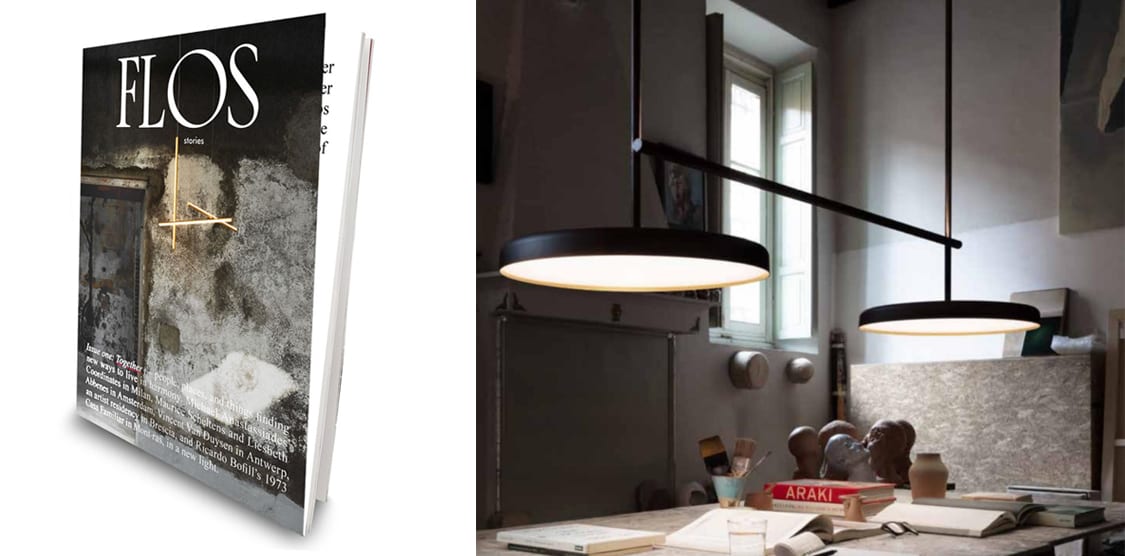 News From Flos
We are excited to share the first issue of Flos Stories! The new publication is available digitally and you can also request a hard copy delivered to your door. With creative direction by Apartamento Studios, the decision to call the first Flos Stories issue 'Together' was made a month before the global pandemic and has since taken on a new significance. The idea was to tell stories of connection—between light, people, objects, and spaces. Day by day we're learning how to exist in the same space with others, we're finding unexpected synergies, and we're developing new ways of being together.
The publication allows you to see through the eyes of designer Michael Anastassiades in Milan, Maurice Scheltens and Liesbeth Abbenes in Amsterdam, Vincent Van Duysen in Antwerp and resident artists in Brescia. It also shows Ricardo Bofill's 1973 Casa Familiar in Mont-ras in a new light. Watch the video below to learn more about this new publication from Flos.
Flos has also released a book called Elements of Light, filled with beautiful application images showcasing their Decorative, Architectural, Outdoor and Custom lighting capabilities. Download Elements of Light or request a hard copy today!
In addition to these two new publications, keep reading for 5 exciting product updates from Flos USA.
Infra-Structure Episode 2
First introduced three years ago, Infra-Structure is an innovative illumination system with a range of luminaires composed of accent modules influenced by the early 20th century Bauhaus movement. The new version of the unique design of
Infra-Structure EVO
by Vincent Van Duysen evolves with new light elements and smaller scale options perfect for residential applications. 
Infra-Structure Episode 2
 gives designers the freedom to move in not only horizontal but also in the vertical planes and at angles and elevations as never before. The system can stand as a single element or scale up as large as the imagination can see. Visually sensible, aesthetically pure, and truly a modern success story.
Belt
Combining the Bouroullec aesthetic and luxury leather, Belt integrates the composition elements to form an innovative connection system in a seamless curved line. Belt provides pure flexibility and adaptability to accommodate in any space effortlessly. The new lighting control solution, FLOS Control®, powered by Casambi, can be applied to a selection of FLOS products and allows an app to turn a light on or off, adjust brightness, color temperature, and can even control the position of the luminaires. Available for iOS and Android. The light profile is equipped with integrated direct and indirect lighting and each light source can be controlled individually via remote control.
"The leather is a key for BELT, it has some freedom, but also a certain stiffness that makes the line harmonious." - Ronan & Erwan Bouroullec
2097/18 Chandelier
Designed in 1958 by Gino Sarfatti, this iconic design presents its take on the mid-century chandelier. The 2097 collection has expanded to offer a smaller version while staying true to original, sophisticated design. Like the previous models, the new 2097/18 comes in brass, chrome and matte black. 2097 chandeliers now have an option for LED lamping as an alternative to the traditional incandescent lamping.
Glo Ball Black / IC Lights Burgundy
Classic FLOS designs are now available in new finishes. Glo Ball has a new black finish option available for the following Glo-Ball models: T1, F1, F2, and F3. The classic IC Lights Collection by designer Michael Anastassiades  is now available in a red burgundy finish.
Flos Outdoor Collection
The Outdoor Collection from Flos blends function, fine craftsmanship and architecture. The Iconic IC Lights Floor Lamp has been re-engineered for the outdoors with a stone base and new finishes as has the Captain Flint Floor Lamp. The outdoor collection also includes bollards, wall and ceiling mounted fixtures as well as ingrade options. See the complete Flos Outdoor Collection here.