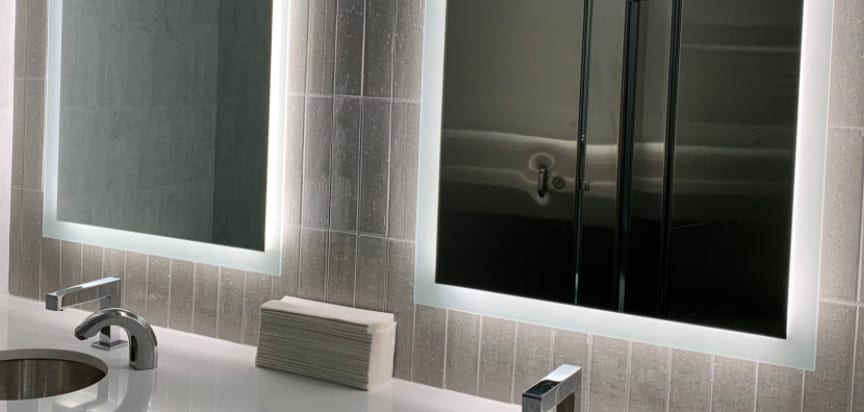 Illuminated Mirrors
It's Friday the Thirteenth in 2020, what could go wrong? If you do happen to break a mirror today, you can avoid 7 years of bad luck by upgrading to one of these illuminated mirror options from the Solus Line Card!
Matrix Mirrors
Matrix Mirrors
specializes in 90+ CRI LED mirrors that are built to last. All products designed and manufactured in Atlanta, GA. Select from styles perfect for almost any space, residential, commercial, or hospitality with an unparalleled range of lighting and dimming options. Matrix offers options with indirect lighting as well as direct and indirect. Dimming options include ELV dimmable, 0-10V dimmable and a Glass Button option to dim with a touch. The Interactive Glass Button comes in a Single CCT (2700K, 3000K, 3500K, 4000K or 5000K) or Multi CCT. In the case of the Multi CCT, the color temperature can cycle from 2700K to 4000K to 6500K and off, with a tap of the finger, with hold button dimming any step of the way. Matrix also offers an optional anti-fog demister and night light.
Jesco Lighting Group
Jesco's Lit Mirrors are available in two energy-conserving choices: LED or T5 linear fluorescent light sources. Both provide abundant white light at very low wattage with long maintenance-free operating lives. The mirrors are manufactured with a copper-free process which provides excellent resistance to humidity and corrosion. Special diffusion and glazing of the glass make the light output more effective, optimizing viewer comfort. The mirrors are designed with dot-free illumination in mind. Jesco can also manufacture custom back-lit LED mirrors in a variety of sizes, shapes and color temperatures. They can also provide back-lit, edge-lit or other combinations of lighting options. See Jesco's LED Mirror Options as well as the Fluorescent Lit Mirror Options for more details.
Scott Architectural Lighting
Scott Architectural Lighting recently introduced new Architectural Illuminated Mirrors to support designers' desires to incorporate illuminated mirrors into office spaces, restaurants, retail dressing rooms, hospitals, airports and private residences. Scott has been making illuminated mirrors for their Hospitality customers since 1982. Scott is now offering 6 standard LED mirror designs that incorporate softly etched illuminated bands and ambient glow to provide both direct and indirect illumination to the space. Their standard light source is a 3000K, 90CRI LED, controlled by a 0-10V Dimmable Driver. They have a variety of standard sizes.
Sonneman A Way of Light
Sonneman's Vanity LED Mirror System provides bright and even illumination.The Vertical and Horizontal Mirrror Kits come in two widths. The Slim 1.5-inch profile provides over 500 lumens per foot and the Wide 3-inch profile provides an astonishing 800 lumens per foot. Vanity Mirror Kits include one (horizontal) or two (vertical) LED bath bars in white optical acrylic with a Polished Chrome finish, a high-quality glass mirror with safety backing, and low profile mirror mounting channels. Mirror Kits are 120V, ELV dimmable and come in 3000K.
Tech Lighting
The Reflection Mirror light by Tech Lighting elevates the classic mirror into a beautiful lighted mirror capable of both ambient and general illumination lighting. Embedded sidelights, securely hidden behind the frosted glass, provide soft lighting in any space. The Reflections Mirror adds simple sophistication to bathroom spaces and can be adapted to powder room lighting as well as master bathroom lighting. Further enhance the Reflection mirror by adding a unique trim or mold casing. The Reflection Mirror Light comes standard in 3000K and is available in 120V and 277V models. Both are fully dimmable to create the desired ambiance in your special space.