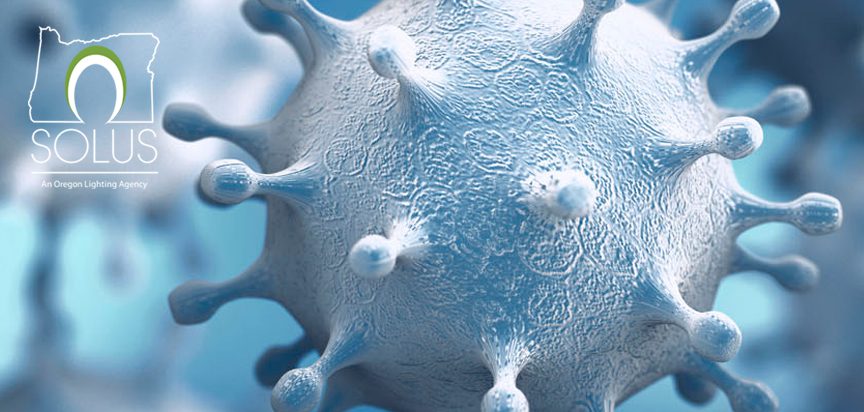 Microbes Don't Stand a Chance with GUV
From the door handle in a public restroom, to the phone on your desk, to the shopping cart at the store, germs are lurking. Cooper Lighting Solutions' NEW germicidal UV disinfection solutions take the guesswork out of disinfecting, getting the job done quickly and effectively. GUV eliminates mold, fungi, viruses, bacteria and pathogens. The potential for these disinfecting solutions is great and we're excited to share what's in the works from the Fail-Safe brand.
What is Germicidal UV?
Germicidal ultraviolet (GUV) – refers to short-wavelength ultraviolet radiant energy that has been shown to kill bacteria and to inactivate viruses. Wavelengths in the ultraviolet band known as the "UV-C" (from 200 to 280nm), have been shown to be the most effective for disinfection.
How does GUV work?
Complex Science. Simple Answer.
RNA / DNA of a microbe can be altered ​
A virus is not a living organism – it cannot be killed. It can be inactivated.​
GUV wavelengths (254nm) have high energy that alter RNA / DNA in microbes​
This energy destroys the nucleric acids altering the structure of RNA and inactivates the virus​
What are some applications for GUV technology?
Workspaces
Restrooms
Food Service
Non-Medical Labs
Offices
Hospitality
Retail
...and many more!
Thanks for reading the Friday Five!
We hope you'll continue to follow along on a bi-weekly basis as we explore what moves and excites us in the lighting world. Our goal at Solus is to equip our community with the best tools and most up to date information. If you would like to provide feedback, shoot us a message.
Learn More about GUV
On Thursday, May 7th, the Illuminating Engineering Society had over 3,000 participants from 59 countries participate in their GUV Disinfection educational webinar. Dive in and learn more from the IES Photobiology Committee's Committee Report CR-2-20.
You can learn more about this hot topic and stay up to date on what's to come from Fail-Safe on the newly launched microsite: cooperlighting.com/GUV. Here you'll find answers to questions you may have about GUV technology, dosing, safety concerns, effectiveness against COVID-19, what kinds of products we'll see coming down the pipeline and much more.
Watch the video below to see the styles of GUV disinfecting solutions available.