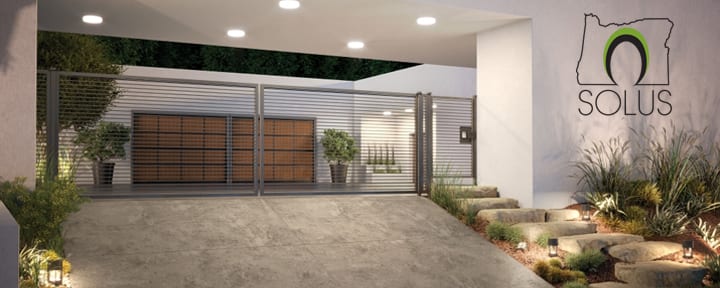 School's Out For Summer!
With summer weather upon us, excitement is in the air among students and adults alike. Summer is the perfect time to get working on your home renovation projects. Solus brings you 5 reasonably priced lighting lines with quality outdoor products and fast lead times so you can quickly complete your home renovation projects and then sit back and enjoy your summer. Get to work on your personal oasis with these '5 Fast & Affordable Outdoor Lighting Lines.'
Auroralight: Copper & Brass Outdoor Luminaires
Auroralight's guiding vision is to provide better landscape lighting fixtures, capable of enduring harsh coastal environments without sacrificing aesthetics or craftsmanship. Auroralight creates estate-quality luminaires using pure copper and solid brass to withstand the effects of salt, sea and time with grace. The collection includes a great selection of path & area lighting and directional lighting as well as downlights,  pendants, & catenary, ingrade and wall mount & steplight fixtures. Over time, these lights develop a nice patina and continue to operate reliably, year after year. We especially love Auroralight's no-hassle, no questions asked, lifetime warranty. Most products ship within 2-3 weeks, so you'll be able to enjoy your new outdoor lighting this summer and for many summers to come.
Tokistar: Lightstrings & Exhibitor Festoon Lighting
It's important to invest in durable and weather proof festoon & tree lighting and it doesn't cost an arm and a leg. Tokistar Lightstrings are a system of sockets wired in parallel and permanently attached to flexible, commercial grade wiring with static or kinetic LEDs covered by protective silicone caps. Tokistar's Exhibitor Festoon Lighting System has near unlimited combinations to choose from with single circuit or chasing effects, your choice of of globe shape and color, multiple LED color options and standard and custom socket spacing options to create the perfect festoon lights for any application. Check out How to Specify the Exhibitor and Lightstrings. Tokistar usually ships orders in 2 weeks or less.
Eaton: Halo, Halo Outdoor & Lumark
Eaton has a lot of great stock offerings for your summertime remodels and renovations. Halo Home Smart Outdoor Lighting offers adjustable CCT from 3000K to 5000K and allows for wireless control of light fixtures from your mobile device, making it easy to adjust photocontrol duration and sensitivity settings of the floodlights.
For downlights, both indoor and out, we love the ML4 Collection with its twist in module, field changeable optics and magnetic trim ring. Or stick with Halo Home bluetooth control throughout your remodel, using the the RL4 or RL56 downlights, inside and out. The Halo LED Product Selection Guide is an invaluable resource in finding the right downlight for your needs. For floodlighting and wall mount options from Halo Outdoor and Lumark, consult the Outdoor Stock LED Lighting Guide.
Sonneman: Inside Out Series
The Inside-Out collection from Sonneman offers beautifully executed forms of sculptural presence and simplicity that are equally at home inside and out. The Inside Out series offers a wide variety of LED sconces and matching bollard designs. Watch a short video showcasing the Inside Out collection or view the full Inside Out collection here. These are all typically in stock and ready to ship out to you right away.
Tech Lighting: Outdoor Collection
Tech Lighting designers and engineers focus their efforts on meeting the unique needs of outdoor lighting. Whether designed for way-finding, accenting landscape features and general illumination for visibility and safety after dark, Tech Lighting Outdoor products will stand up to the most severe environmental conditions while providing state-of-the-art, long lasting, efficient LED light. The outdoor offerings include sconces, pathway lights, ceiling mount lights, bollards, light columns, and a nice variety of IP65 pendants like the Roton 18 Outdoor Pendant pictured here. Most products are in stock and ready to ship, so you can make those summer renovation dreams a reality!