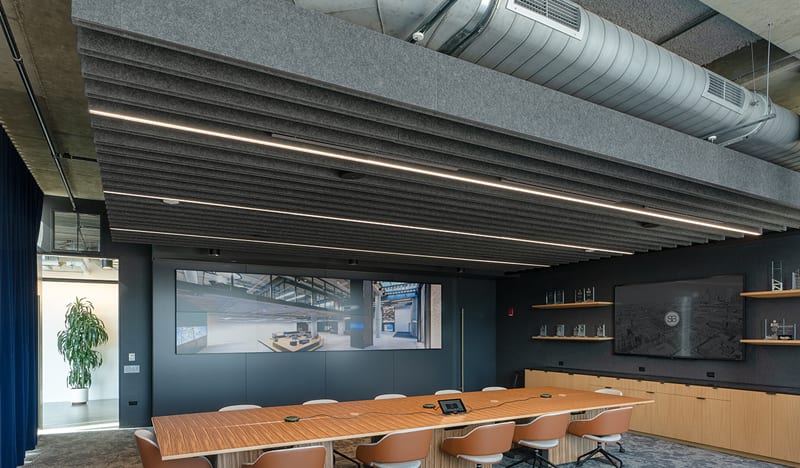 Past editions of the Friday Five have focused heavily on the importance of proper lighting. Acoustics are another important factor to consider when designing a space. One of the biggest trends we've seen in the lighting market over the past year is sound-reducing light sources, combining an acoustical solution with highly efficient LED technology for the perfect all-in-one solution for open floor plan designs. Proper acoustics and lighting allow people to hear, speak and perform tasks comfortably. Acoustic materials absorb background noise and echo, creating a much more tranquil environment.  We've got some fantastic acoustic luminaire offerings in the Solus Line Card. Today's Friday Five brings you '5 Great Acoustic Lighting Solutions.'
Focal Point: Skydome Edge & Seem 1 Acoustic
Introduced in 2018, Focal Point's Acoustic Solutions feature modern, eco-friendly and sound absorbing housings. These offerings have gained great traction and popularity with designers in our market. The acoustic material contains up to 50% recycled plastic bottles and there's now an even larger selection of colors to choose from. The Skydome Edge Pendant and companion Skydome Edge Acoustic unlit pendant come in 2', 3' and 4' diameters. Seem 1 Acoustic luminaires can be specified with Direct, Indirect or Direct/Indirect light distributions or as an unlit acoustic baffle. AirCore Blade is a slimmer 1" wide unlit acoustic blade offering the same great noise reduction at a lower cost.
OCL: Glowring Acoustic
OCL debuted their new acoustic solutions at Lightfair 2019. The Glowring Acoustic, pictured on the right, has been officially launched on their website and other new offerings like the Stealth (left) and the Kwyet (middle) can be seen in the OCL 2019 New Releases Poster. The Glowring Acoustic works as both a high-performance decorative luminaire and sound absorbing acoustic option, absorbing sound both above and below the fixture. OCL uses a minimum of 75% recycled post-consumer material and no adhesives or chemicals, making it 100% recyclable. They offer 6 standard color options and more upon request and 5 diameters available, from 2' to 6'.
Shaper: Sense Acoustic LED Luminaires
If you attended the 2019 Spring Fling Decorative Lighting Showcase, you likely saw the Shaper Sense in person. Eaton's Lightfair 2019 booth showed off the expansive offerings of acoustic pendants with 62 color offerings made from 100% wool from FilzFelt. Shaper is the only manufacturer working with FilzFelt, offering their unique patterns like Ribsy and Index Dimensional. FilzFelt's materials are handcut and applied to a cork backer and patterns are created by hand. Besides the great material choices, the Sense series offers shapes that are unique to the market. The light engine is comprised of square or round edge-lit acrylic panels which allow natural daylight to filter through when not in use. Eaton's Mindful Design publication details more about the Shaper Sense line, launching officially this summer, and discusses the importance of acoustic elements in open floor plan design trends.
Inter-Lux: Soft Delta, Ellipse & More
Inter-Lux is no novice when it comes to incorporating acoustic lighting elements into luminaires. Pioneers in the design of ring-shaped luminaires, their acoustic offerings have been around for over 5 years. Sattler offers the Soft Delta, Soft Quadra and Ellipse Pendant with an integrated fabric covering which serves as an acoustic diffuser. The large scale acoustic luminaires use the highest grade materials and are sure to create a statement in any application.
Estiluz: Revolta
Launched in 2017, the
Revolta
 was devised as a variation of the popular
Volta
family from
Estiluz USA
. The delicate suspended arches were redesigned as iconic circles which can be combined to create visually pleasing formations in the space. The acoustic panels provide some sound absorption while adding a dash of color to the space. The Revolta's circular sound absorbing panels in Blue, Eggplant and Salmon are made from 95% virgin wool and 5% nylon. A Black panel made from PET recycled plastic was added to the offerings more recently and is available at a lower price point than the upholstered options. More colors are available upon request.
Thanks for reading the Friday Five!
We hope you'll continue to follow along on a bi-weekly basis as we explore what moves and excites us in the lighting world. Our goal at Solus is to equip our community with the best tools and most up to date information. If you would like to provide feedback, shoot us a message.