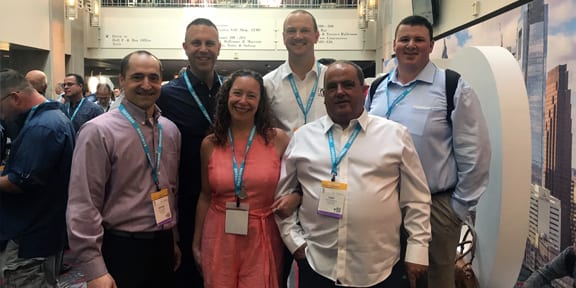 2019 Lightfair International in Philadelphia
Last week, part of the Solus sales team headed to Philadelphia for Lightfair. There they gained some insight into technological trends of the lighting industry. The Solus team saw a lot of great new designs and technology allowing luminaires to accomplish more than ever before. This week's 'Friday Five' narrows it down to 'Five Highlights from Lightfair International'. Keep reading to learn where the future of lighting & controls is headed.
Eaton: Mindful Design
Eaton's Lightfair booth brought a variety of lighting & controls solutions to the spotlight, with a focus on Mindful Design. See all of the highlights here. With corporate design trending towards open floor plans, Shaper Sense Acoustic LED Luminaires with FilzFelt offer a great looking, high-performance solution. Eaton took our staff through the coming expansion of the Wavelinx Wireless Control System. Traditional fixture-integrated sensors on the interior commercial products have been expanded to include industrial highbay and outdoor site fixtures. The Wireless Area Controller (WAC) will soon have a second generation, providing a larger coverage area. The Wavelinx Insight Manager has some exciting upgrades coming, including an enhanced user interface and data collection for enterprise level applications. This will make Wavelinx a scalable solution for nearly any application. With the exciting addition of TrelliX, WaveLinx sensors can be used for data-collection, transforming a smart lighting system into an iOT infrastructure with limitless potential to keep up with the growing service demands of people, property and resources.
In the first newsletter of 2019 Eric Nispuruk predicted Eaton's Ephesus Lumadapt 8 LED sports lighting system was going to be big this year and he was right! Lumadapt 8 received an LFI Innovation Award in the category of Sports, Step, Landscape, Pool & Fountain Luminaires. The Lumadapt LED lighting system provides color tuning from 3000K to 6500K, integrated RGBA flood lights and dynamic beam tuning that's easy to control through an app. Lumadapt 8 alleviates the concerns of facility operators by allowing them to buy the features they need now and then remotely update and expand as needs change or new features become available.
Crestron:  SolarSync Outdoor Daylight & Color Temperature Sensor
The SolarSync Sensor (GLS-LCCT) from Crestron enables indoor lighting to be regulated to match actual natural light happening outdoors. Installed on a roof or indoor area, the SolarSync sensor measures true color temperature and intensity of natural sunlight or any other lighting source and allows controlled fixtures to match the exact color temperature.
Ecosense: Lore Downlights, Wall Washes & Multiples
LFI Innovation Award Winner in the category of 'Most Innovative Product of the Year', the EcoSense Lore is a fully adaptable luminaire family featuring patent pending optics and driver technology. What sets Lore apart is the 'Auto Sensing Protocol Technology' which means that when connected to any 0-10V, Dali, DMX, ELV or BLE Mesh system it will know just what to do, simplifying the specification process and saving time and money.  Lore also debuts EcoSense's latest 'Lingo' digital platform which is a bi-directional language in which every single component communicates back and forth. This system allows for flexibility including future upgrades and changes in color temperature, output level, emergency battery integration, auto sensing protocol technology and wireless control integration.
Ligman Lighting: MicroVOS Optics & Intelligent Light Columns
Ligman Lighting's booth showed off the new MicroVos (Variable Optical System) which offers field adjustable and rotatable optics, allowing for the designer to create hybrid distributions for precise lighting requirements. They also introduced the Intelligent Light Column, a sleek, configurable smart lighting column system offering unlimited options for urban and public real illumination. Combine 360 degree lighting and cluster projectors along with integrated elements like Wifi, Camera, Occupancy Sensor, Speaker, Intercom and more.
Neri: Lang LED Street Lamps
In addition to Neri's award winning concrete
Brenta series
, Neri impressed Lightfair attendees with the new
Lang LED Street Lamp
 series which features two optical chambers controlled independently, and optional laser cut blade offered in endless combinations of color and geometric patterns. Lang's two light sources come standard with the same distribution but options include symmetric and asymmetric, types: II, III, IV, V, in lumen output ranges from 2500 to 7500 lumens. This unique modern design with customizable capabilities is a great way to add character to outdoor areas like campuses, corporate headquarters and residential communities.
Thanks for reading the Friday Five!
We hope you'll continue to follow along on a bi-weekly basis as we explore what moves and excites us in the lighting world. Our goal at Solus is to equip our community with the best tools and most up to date information. If you would like to provide feedback, shoot us a message.