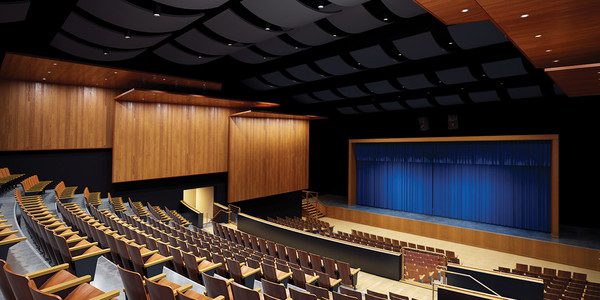 Downlights for High Ceilings
Choosing the right downlight for a high ceiling application takes careful consideration. Brightness control and quality of light is critical in high ceiling applications. We've gathered 5 solutions for your consideration when lighting a space with a high ceiling. Tech Lighting recently unveiled the budget-friendly Element 4" Pro Series. The list also includes a variety of our go-to products from brands you can trust like Cooper Lighting Solutions, USAI, Intense Lighting and Focal Point.
Tech Lighting - Element 4" Pro
The Element 4" Pro Series introduces a budget-friendly, specification-grade downlight with wide-angle distribution for commercial applications. Engineered with a precision diffuser and Solite soft focus lens that eliminates hot spots, direct visibility into the housing, and delivers a clean aperture and ceiling aesthetic. The Element 4" Pro Series is offered in a variety of options, including output up to 3200 lumens, beam spreads (from 65 degree to 95 degree) and the choice of Static White, Warm Dim or Tunable White to meet any commercial requirements. The family includes a 
Fixed Downlight
, 
Adjustable Downlight
 and 
Wall Wash Downlight
.
Cooper Lighting Solutions - Porfolio & Halo Commercial
Cooper Lighting Solutions has a lot of great options for high ceilings, in the Portfolio and Halo Commercial families. The Halo Commercial's HC8 8" LED Downlight's output ranges from 1500 to 8000 lumens, with narrow, medium and wide distributions, a variety of reflector finishes and Wall Wash with an exclusive rotatable linear spread lens. When more options or higher output are needed, look to the specification grade Portfolio brand which can output up to 20,000 lumens in the LD8B series. Both brands offer cylinder downlights in addition to recessed downlights.
USAI - Max Output
USAI Lighting's Max Output technology takes LED performance and intensity to unprecedented levels, making for a perfect solution for high ceiling lighting. With light output reaching 6,000 delivered lumens, (7,500 source lumens) USAI Max Output LEDs put long lasting, energy efficient, mercury-free high ceiling LED lighting options in play for airports, atriums, ballrooms, lobbies, and other spaces that require maximum lumen output. Available in the BeveLED 5.0 family, USAI Max Output products outperform compact fluorescent and HID sources while offering a variety of aperture sizes, all with USAI Lighting's uniquely engineered optical system. Choose BeveLED 5.0 Classic for 4 classic white color temperatures, BeveLED 5.0 WTG for Warm Glow Dimming and BeveLED 5.0 Color Select to dial in any color temperature from 2200K to 6000K.
Intense Lighting - Gravity
Delivering up to 10,000lm, Intense Lighting's Gravity™ high lumen LED downlighting is ideal for even, quality light distribution in spaces with high ceilings. Gravity delivers when cost of ownership is analyzed. Gravity features field changeable optics, drivers, reflectors, and thermal management all serviceable from above or below the ceiling line. The Gravity family covers a large scope from 2" to 8" apertures, trimmed and trimless, round and square, adjustable, downlight and wall wash. Learn more about the Gravity family here.
Focal Point - ID+ High Ceiling Downlight
Focal Point's precision optical design efficiently captures and redirects light out of the aperture, while maintaining a comfortable appearance that does not detract from the environment. ID+ adapts to each high ceiling application, offering maximum design flexibility. Multiple beamspreads, a range of outputs and a selection of dimming drivers provide options and capabilities that previous technologies could not achieve.A faceted 98% reflective specular primary reflector controls each ray, and focuses the beam toward its target. Field-changeable optical filters shape the light into smooth beamspreads from 30˚ - 65˚. The filter creates a single homogenous light source, and eliminates distracting multi-source shadows. The low-brightness design is finished with a diffuse 50˚ cutoff reflector. The gently grazed reflector surface contributes to a comfortable and quiet presence in the ceiling. Read more about the High Ceiling downlights and additional ID+ Downlights and Cylinder offerings.
Thanks for reading the Friday Five!
We hope you'll continue to follow along on a bi-weekly basis as we explore what moves and excites us in the lighting world. Our goal at Solus is to equip our community with the best tools and most up to date information. If you would like to provide feedback, shoot us a message.