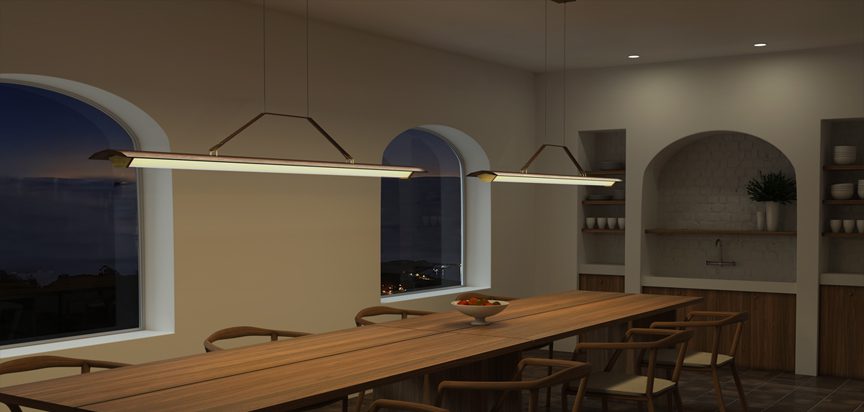 The Organic, Timeless Warmth of Wood
One of the few renewable resources out there, wood is one of the longest standing building materials in existence and we see lots of architects and designers embracing this natural material. We have quite a few great options that incorporate wood grain materials into luminaires. Here are our top 5 favorite wood options from the Solus Line Card.
Zaneen - Tunto
Zaneen's latest offerings are handmade with love in Finland. Tunto Design creates innovative and modern lighting concepts that combine sustainable wooden materials with the latest technological innovations. They've worked in close cooperation with architects, lighting designers and interior designers to create outstanding bespoke lighting solutions that show off the true beauty of the wood. They chose wood as a material for its ecological qualities in addition to its insulating and acoustic benefits. Wood also brings warmth and vividness to a space. Tunto handpicks their materials to ensure the best possible quality product is delivered. Stay tuned to Zaneen's Tunto Design page as more North America-approved products are added and in the meantime check out Tunto.com. We'll have a Tunto sample as part of the Zaneen Sample Tour. Click here to get on the list to see it when it comes! 
Bartco - Faux | Real
Bartco's new collection features rectilinear directional and bi-directional LED fixtures with real wood cladding that can be surface mounted or suspended. The aluminum housing and end caps can be paired with a variety of real wood materials including Walnut, European Beech, Mahogany, White Oak, Bamboo or a custom selection. If real wood is not in the budget, Bartco can offer a variety of lower cost alternatives, including faux walnut, pine, rift cut oak and cherry. Whether your project calls for Faux or Real, Bartco products are all carefully hand-crafted in Huntington Beach, California by a family-owned business dedicated to "Bringing Your Vision to Light."
Marset - Ginger
Wood is an old ally of cozy lighting. It is a material  that is hard to mold, a challenge that Marset neatly resolves in the Ginger collection. The combination of sheets of wood and paper  pressed together under high pressure achieves a laminate that appears almost entirely flat, which discreetly lights up spaces with indirect light. The expansive Ginger family has an impressive assortment of styles and sizes. See the full Ginger collection here and a number of other Marset designs that incorporate wood.
Ligman - Woodland Collection
Ligman's new 
Woodland Series
 offers a variety of wood grain finishes available on select floodlights, bollards, ceiling and wall mounted luminaires. Timber finish powder coating creates a superior high-definition coloration that does not fade compared to conventional timber and protects the aluminum from weather, corrosion, humidity and sunlight. They can do Doug Fir, Cherry, Walnut or any custom finish. Check out the wide selection of products in the 
Woodland Series
.
Cerno Group - Penna
Designed and made in California, Cerno Group's aesthetic marries modernism and contemporary design. Timeless, elegant materials are combined with the latest LED technology in designs that were born through Cerno's dedication to perfecting design details and mastering the craftsmanship in-house. Much of the collection is centered around natural materials like Walnut and Oak. They keep to their minimal aesthetic: every feature has a function. The new Penna Linear Pendant and Penna Sconce balance utility and sophisticated beauty well. The walnut, brass, and leather work in concert to compose a modern form with materials that have been used for thousands of years. See the entire Cerno collection for a gorgeous selection of floor and table lamps, vanity lights and sconces, pendants and more.
Thanks for reading the Friday Five!
We hope you'll continue to follow along on a bi-weekly basis as we explore what moves and excites us in the lighting world. Our goal at Solus is to equip our community with the best tools and most up to date information. If you would like to provide feedback, shoot us a message.