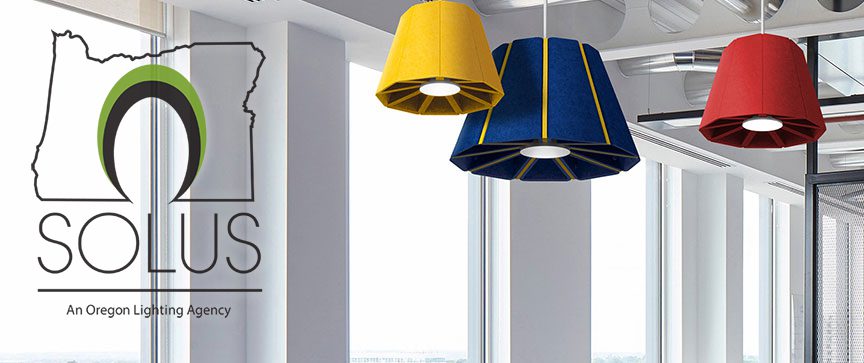 Friday, I'm in love.
We've almost made it through another week! This week's 'Friday Five' features 5 things you're sure to love. We've got 'heart-eyes' over Focal Point's new Blume & Zyl acoustic pendants. We've been wooed by OCL's (Casa-) Nova, and simply adore the new collections from Sonneman & Vistosi. We're also crushing on Luminii's FOT Flex and are already dreaming of all the great things we're going to do together.
Focal Point - Blume & Zyl
Focal Point knows how important good lighting and proper acoustics are in the design of happy, healthy environments. Their newest acoustic collections, Blume™ and Zyl™ flourish in open environments to deliver a bold statement and optimal illumination while also quieting a spacing. Inspired by mother nature, Blume is an architectural pendant that adds a flourish of color and delivers optimal illumination while quieting a space. Form and function come together with Zyl, which adds flair to interior spaces while creating a more pleasant environment. These decorative pendants offer performance optics, with Spot to Super Wide Flood distributions, up to 3000 lumens and 50° and 80° cut-off cones.
OCL - Nova
Step aside, Casanova, the bigger, stronger Nova has won our hearts. OCL's popular Nova pendant is now available in a more powerful size of 36" and up to 10,000 lumens, making it an even greater asset for specifiers looking for high-performance lighting options. Too big? The 18" and 24" diameter models start at 15 watts and 1530 delivered lumens, perfect for more intimate spaces. Nova's light source is shielded with a recessed performance diffuser with high transmission and zero LED imaging and can be ordered as a damp location fixture if needed. Have Nova the way you want it with OCL's handsome selection of finishes for outer and inner shade customization.
Sonneman - 2020 Collection
There's a lot to love amongst Sonneman's new product releases. They recently dropped their Additions 2020 Catalog with new products ranging from architectural systems, multi-form lighting compositions, sculptural luminaires, modern minimalist geometric designs, new bath bars and sconces and additions to the Inside-Out collection. Take a look at the New Product category to see tons of fresh new designs, including the Hedron (left) from the Constellation Collection and the Dotwave(right) from the Inside-Out Collection.
Optic Arts by Luminii - F.O.T. Flex
Our new crush is unique, focused, efficient and flexible. Luminii's Focus Optics Technology
F.O.T. Flex
  is an IP67 wet location surface mount solution whose flexibility allows for limitless design solutions with its wall washing, grazing, spot and asymmetric distributions. Use it for indoor/outdoor applications such as exterior accents, decks, gazebos, barbecue stations, wet bars, and signage.
Thanks for reading the Friday Five!
We hope you'll continue to follow along on a bi-weekly basis as we explore what moves and excites us in the lighting world. Our goal at Solus is to equip our community with the best tools and most up to date information. If you would like to provide feedback, shoot us a message.