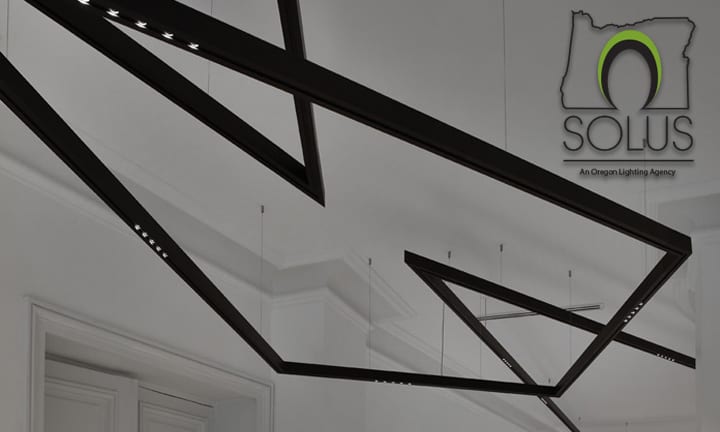 The Play of Light and Dark
It's been said that architects have always built with light in mind, but consider shadows just as often. One notable 20th century architect, Louis Kahn believed that light's purpose is to cast shadows, and that these shadows are present to evoke a certain mood. In recent years, we've seen many new and innovative lighting products with optics designed to hide the light source and provide comfortable, glare free illumination. These can also be used to make patterns and add dimension to architectural spaces. Read more about the Power of the Shadow as studied by Louis Kahn in the 50s and 60s, gather inspiration from images showing Light & Dark in Architecture and keep reading for 5 Micro Optic Products that provide a simple way to play with light and dark in your lighting design.
Flos - Circle of Light
Providing stunning illumination, the
Circle of Light from Flos
employs conical snoots with a reverse bevel edge so that glare is completely eliminated. From the side, you can barely tell it's on! It's offered in three diameters and two optical distributions, to accommodate any lighting requirement. The Circle of Light is designed with the same manufacturing process as the Soft Architecture for a refined look and easy trimless install. Also shown here is the
Tracking Magnet
, another great option for playing with light and dark.
USAI - BeveLED Micro
Micro
™ - USAI's smallest LED downlight artistically blends technology and sleek design. Micro provides a unique aesthetic for downlights, with a new linear form factor and jewel-like presence in the ceiling plane. Ceilings are powerful yet whisper quiet with Micro's minimal aperture size of just 1.25". Available as a downlight in 2, 4, 6, 8 and 12 cell configurations, Micro brings elegance and clean style to lobbies, corporate headquarters, hotels and residential applications.
ALW - HBEAM 1.25 & HBEAM MICRO
Selux - Piix™ MRC
Subtle and precise, the
Piix™ with Micro Reflector Cells (MRC) from Selux
offers precise beam angles and a quiet ceiling without high-angle glare. With the efficient LED light source being regressed within the housing, the focus remains on the lighting rather than the fixtures. Direct or Direct/Indirect options offer up to 110lm/W, providing effective, efficient lighting. Precision-designed injection molded reflectors snapped in behind the Black baffle direct light downward without reflected light on the fixture. With optional secondary optics including a Clear Lens, Hexcell Louver, or a Diffuse Lens, additional distributions and aesthetics can be achieved.
Kreon - Nuit
Nuit from Kreon
is a clean and simple design that can be used to bring graphical elements into the architecture. Its basic form draws minimal attention and can easily be used in combination with other Kreon tools of light, creating an artistic yet responsible use of light sources, paying particular attention to energy savings. You may have noticed this product featured in the award winning Bank of Expensify design by ZGF Architects and Glumac!
Thanks for reading the Friday Five!
We hope you'll continue to follow along on a bi-weekly basis as we explore what moves and excites us in the lighting world. Our goal at Solus is to equip our community with the best tools and most up to date information. If you would like to provide feedback, shoot us a message.