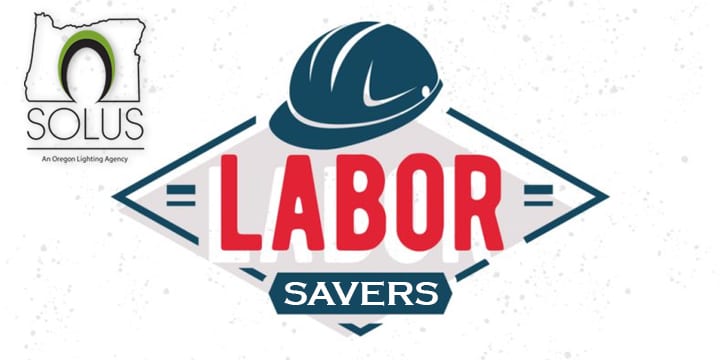 The Labor Savers of Lighting
We hope you had a nice and relaxing Labor Day weekend. It's important to take some time off to rest and recharge. As we take a moment to recognize and celebrate the achievements of the American worker, we're realizing how much we appreciate when our manufacturers offer solutions that save on labor during installation. Here are 5 Labor Saving solutions that will have you working smarter, not harder.
Focal Point Focus Wall Wash Cove with Snap-In LED Modules
Focal Point's Focus Wall Wash
is a low profile LED wash that provides a glowing transition between wall and ceiling with shadow-free illumination. The housing creates a 6" architectural slot with extruded splay to conceal the light source from view. It was engineered to accommodate shallow plenum grid and drywall ceilings and to provide cost savings. It provides ease of installation and maintenance with rough-in housing and separate snap and lock LED module. The LED light module can be snapped in the rough-in housing at any stage of the construction process, saving on coordination efforts, while the simple electrical connection provides quick and easy installation and maintenance.
Prudential Lighting's P59 Cove-in-a-Box Can Ship Assembled
Prudential's P59
is a prefabricated perimeter cove system offering an indirect wall wash effect. Using no louvers, the fixture illuminates walls while giving the ceiling the appearance of floating. Telescoping LED modules along with field-trimmable extension kits allow for fully illuminated custom row lengths. With the contractor-friendly shipping assembled option (ASMB), P59 becomes the ideal solution to bypass cove VE concerns.
Eaton's Controls Systems & Integrated Sensors
Eaton's WaveLinx Design Guide
 gives a detailed overview of the controls solutions and their cost progression including installation costs. This is very helpful when choosing the right solution for the job. Wavelinx is designed for plug-and-play connectivity for either standalone or networked applications. For smaller spaces, IT setup is not required and the system can be set up and managed via mobile app.
DLVP
offers fast system installation, easy controls wiring, no complex commissioning, code-compliant performance and lower installed system cost with an average of 40% reduction in man hours. If 6 or fewer fixtures are involved, no separate controls system is necessary when using Integrated Sensors at the fixture level, offered in a variety of Eaton luminaires. Luminaires with the Integrated Sensor system are easy to install with no special wiring and ensure energy savings out-of-the-box with default control settings.
Read about the Metalux fixtures that feature the SVPD1 sensors out of the box.
LVS - Central Emergency Power Systems (CEPS)
LVS is proud to be one of the leading manufacturers of UL924 Listed Inverters. LVS stocks
CEPS Inverters
from 25W to over 2000W and can ship systems overnight. There are a lot of benefits to choosing an Inverter over individual Emergency Backup Battery Packs that are integral in the fixture. Battery packs will offer a reduced output and will most likely be needed in every fixture, whereas Inverters can provide full power, allowing for these to be wired to less fixtures. Individual battery packs require manual testing at the fixture level each month, whereas inverters can provide automatic diagnostics, eliminating the labor of monthly testing. Finally, when battery packs need to be replaced, there will be a lot of labor involved and most likely they will need to be replaced at different times. Inverters have field replaceable batteries in a single location, making service quick and easy.
Halo LED Surface & Direct Mount
Halo Surface and Direct Mount LED Downlights are available for three installation methods: housing, junction-box, and direct to ceiling mounting, with integrated junction boxes that easily install into drywall, no housing or additional junction-box needed. Their modern look, with ultra-low profile flanges, and high performance offer light quality and design that exceed their value pricing. The Halo Surface Mount LED Downlight (SMD) is an ultra-low profile surface mounting luminaire with a modern look and high performance. SMD4 (4") and SMD6 (6") are designed for installation in recessed housings and many 3-1/2" and 4" square, octagon, or round junction boxes. The SMD4 and SMD6 can also be used to retrofit 4, 5 and 6 inch aperture recessed housings. The SMD4 and SMD6 series also offers a direct mount (DM) version which can be installed directly into the ceiling with no additional junction box or housing required. Utilizing the integral Halo enclosure, this version of the SMD provides a quick installation and flush finish with the ceiling. The SMD4 and SMD6 provide the solution to many different problems, and the easy install makes these one of the top labor savers out there.
Thanks for reading the Friday Five!
We hope you'll continue to follow along on a bi-weekly basis as we explore what moves and excites us in the lighting world. Our goal at Solus is to equip our community with the best tools and most up to date information. If you would like to provide feedback, shoot us a message.