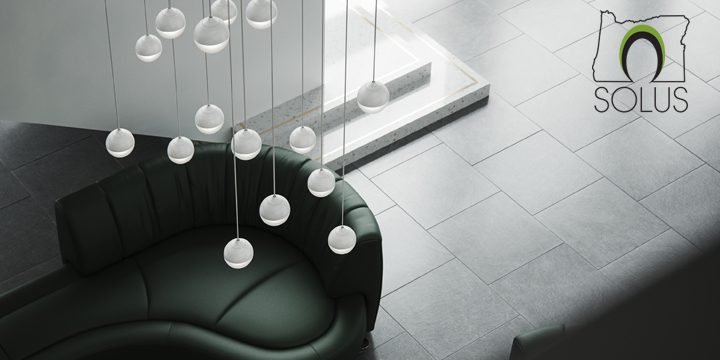 Happy Holidays from Solus!
We may be getting ready to head out for the holidays but we've still got some exciting lighting products to share with you in the last Friday Five of 2019.
We wish you all the happiest of holidays and we look forward to working with you in 2020! Until then, we hope you enjoy reading about 5 of our favorite luminaires this holiday season.
OCL - Glowball Pendant
OCL has just announced a new series. GLOWBALL is a decorative sphere of light that can be used as a stand-alone pendant to punctuate an area, or in multiples to create large scale installations.OCL's revolutionary silicone diffuser is what makes GLOWBALL unique. Produced using a cutting-edge molding process, the diffuser creates a distinct inner glow surrounded by an ambient "ghosted" outer surface. The diffuser's silicone properties make it extremely durable and resistant to scratching and cracking.  It's nearly indestructible. It won't be damaged like glass or acrylic could be. It's also flexible, so the diffuser will retain its shape if flexed or bent, making it easy to install and remove for maintenance. Available in static white, tunable white and RGBW. Read more about the new GLOWBALL series here.
Inter-Lux - Spilla
From the renowned Sattler brand comes the Spilla, a fine porcelain flower luminaire. Designed by Joerg Krewinkel and manufactured in Munich, Germany, Spilla combines traditional craftsmanship with the latest in LED technology resulting in a true work of art. The botanical-inspired luminaire is approximately 10 inches in diameter.Arrangements and single fixtures can be controlled and dimmed via Bluetooth, ideal for creating ambiance in an upscale setting. Inter-Lux never ceases to wow us with the beautiful European designs they bring to the US market. Get more information at Inter-Lux.com.
Zaneen - Snooker
Zaneen's SNOOKER is not just any suspended luminary; its creative installation is based on the innovative GRAVITY LIFT\. The system offers the user the freedom to change the light in height or position at any given time. The magic of the lift system is the infinite adjustability, with an audible click every 10 cm. The magnetic installation (48 Volt DC) of the GRAVITY LIFT and the unique bolt mechanism allows you to configure your own formation or sculpture within your space or geometry. SNOOKER itself is fitted with the latest Bartenbach LFO dual lens technology to ensure glare-free suspended lighting. It uses a centralized driver and an integrated DC string to offer full control of each luminary. A Constant Light Output (CLO) function compensates for natural decline by constantly increasing the output current of the LED throughout its life. Spheres are available in 29 standard colors, with or without light (DEKOR), or with a SHINE-colored line. SNOOKER is a perfect solution for lobbies, for restaurants where the tables are often rearranged, etc. A real creative solution for hospitality settings, where every designer can leave their mark on a project.
ALW - Crescent Moonring with Rotatable Connectors
ALW's MoonRing family has expanded with the introduction of the 
CRESCENT MOONRINGS with Rotatable Connectors
 making it easy to transform empty space into a three-dimensional work of art. CRESCENT MOONRINGS meld the endless variety of form factors available through LED technology with RAL Classic Colors and cutting-edge mechanical design. Rotatable segments, flexible lamping, and control options direct visitors' attention to features you want highlighted. Nuanced luminaire colors influence mood to match space and purpose. Pieces are available in 1", 1.5" and 3 aperture crescents (quarter rings) from 24" to 96" radius with linear sections available on request. ALW offers 3D CAD/STEP files and BIM/Revit files making it easy for designers to envision the posibilities within the space.
Carl Stahl - X-LED
X-LED made by Carl Stahl prepares the stage for commanding illuminations and effective messages. The intelligent combination of delicate mesh construction and LED light modules means the system is virtually invisible during the day, coming to life at night. With individually controllable LED dots and diverse supporting structures, X-LED provides infinite inspiration for creative ideas and bespoke applications. The LED mesh provides between 65 and 96 percent transparency. If installed in front of a glass facade, it lets plenty of daylight into the building and allows a virtually unobstructed view to the outside. The LED mesh is tractable in three dimensions and adapts to the geometry of the building. X-LED Mesh fits optimally into any surface, large or small - whether spherical, cylindrical, conical or undulating. The LED light module system projects dynamic changes of colors, moving images, messages, animations and videos onto building facades, bridges, displays and three-dimensional architectural installations. There's no application too big or too small for this highly adaptable system. Watch the video below to get an idea of some of the many applications X-LED Mesh is perfect for.
Thanks for reading the Friday Five!
We hope you'll continue to follow along on a bi-weekly basis as we explore what moves and excites us in the lighting world. Our goal at Solus is to equip our community with the best tools and most up to date information. If you would like to provide feedback, shoot us a message.