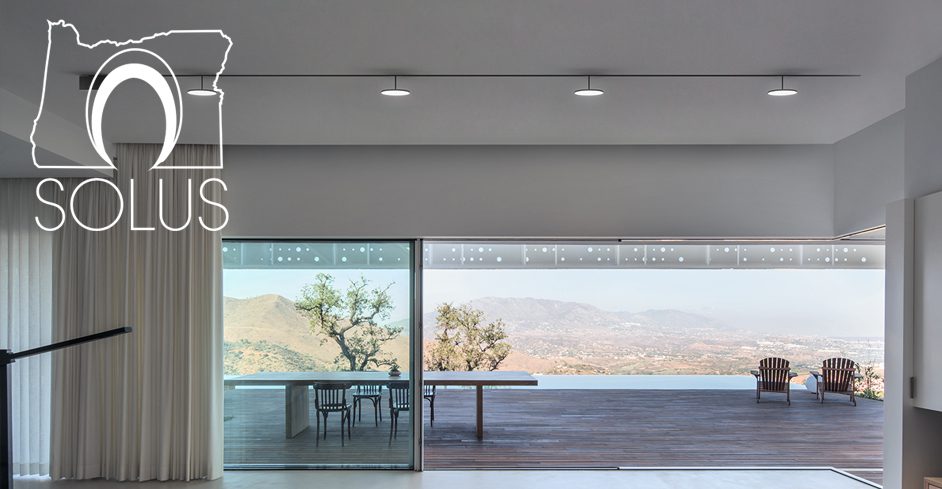 Less is More!
This week in lighting news, Solus brings you 5 simplifying solutions that will bring more value to your projects. LESS HASSLE: The new Intense Gravity 2" Downlight with its folding design can be installed easily from below the ceiling. LESS COST: Tech Lighting is now shipping the Entra 2" Niche, a value-priced performance downlight. LESS VISUAL CLUTTER: Flos Architectural's .7 inch wide surface mount track offers a clean, minimalist aesthetic. LESS FIXTURES NEEDED: Focal Point's expanded optical offerings in Seem 1 allow for wider spacing between rows. LESS CONSTRAINTS: Zaneen NODO track system combines track lights, electrical receptacles, USB connections and other accessories, freeing your lighting design from electrical constraints.
Intense Lighting - Gravity 2" Downlights & Cylinders
Meet the 2-Inch Gravity High Performance Architectural Downlights & Cylinders. They have power, adjustability and looks to match. The new downlight design brings us the industry's first fold-frame, making it easy to install from below the ceiling. A minimalist 1mm specification grade reflector is paired up with a deep-seated light engine that is capable of producing 1,500 lumens with minimal glare and maximum adjustability. Field adjustable collar heights accommodate a ceiling thickness of 1/2 inch up to 1-1/4 inch. Available in a fixed downlight, adjustable downlight and wallwash, with field changeable optics from 7 degrees to 70 degrees.
Designed to complement the new Gravity 2-inch Downlight, the Gravity 2-inch Cylinders provide architectural illumination in a sleek, elegant housing. Offering high performance and tight beam control in a compact design. Available in 6" and 12" lengths, the cylinders come in surface mount, rigid stem or cable-hung pendants. With the same great high performance optics, Gravity 2-inch cylinders enhance any space. Read more in the Gravity 2-Inch brochure from Intense Lighting.
Tech Lighting - Entra 2" Niche
Entra Value-Priced LED Performance Downlights by Tech Lighting offer an alternative to meet residential and commercial specifications on budget-sensitive projects. Custom engineered for high performance and reliability, Entra is easy to configure with set of features that offers flexibility without an overwhelming list of options. In addition to the Entra 3" Adjustable, Tech Lighting recently introduced the Entra 2" LED Adjustable Niche Lights, ideal for alcoves or built-in shelving, drawing attention to architectural details and improving overall illumination. Available in both 12V and 120V versions, these units offer tool-free adjustable aiming (35º tilt, 359º rotation) in multiple color temperatures, and include both a 30º and 60º lens. Entra 2" LED Fixed Niche Downlights can also be used for exterior applications.
Flos Architectural - Zero Track
Characterized by its diminutive dimensions, Zero Track provides a minimalist aesthetic that benefits a variety of architectural spaces. The track is field cuttable and available in five finishes: Chrome, White, Black, Bronze and Dark Brown. The 24-volt, 0-10V dimmable track runs up and around walls and ceiling and was designed for ease of installation. There are 2 distinct track spots with 2 sizes each, an area lighting disc and a decorative pendant. View all of the elements that can be used with the Zero Track including the Find Me Zero, Find Me 1, Find Me 1 Suspension, Atom 90, Atom 120 and Atom 200.
Focal Point - Seem 1 Direct & Direct/Indirect
A minimal aesthetic with a 1.5" aperture, 
Seem 1
 is engineered for design flexibility and ease of installation. It may be specified as individual units or continuous runs, including patterns with 90-degree corners. It provides superior performance with direct, indirect or direct/indirect distributions, to achieve the right illumination in any interior space. Available in suspended, recessed, surface and wall mount options to accommodate grid, drywall and open ceilings, Seem 1 meets the needs of diverse spaces. Focal Point has expanded Seem 1 to offer a direct batwing distribution option, allowing for 16-foot on-center spacing. Seem 1 Direct/Indirect allows for up to 20-foot on-center spacing. Wider spacing of fixtures means fewer fixtures are needed in the space. Good news, the new distribution is also a part of Focal Point's Quickship Program!
Zaneen - NODO
Pushing the boundaries of traditional track systems, NODO is an innovative track system that adds flexibility, eliminates constraints, multiplies possibilities and cuts costs. NODO system is equipped with track lights, electrical receptacles, USB connections, and non-electrified accessories, which can all be repositioned wherever and whenever you want. The backlit 3-circuit track is customizable in length and can be run to any area of the room with the use of 90° joints and Smart-ON quick connectors, freeing your lighting design from any electrical constraints. As a customization, the track and its components can be treated with a variety of finishing techniques: special anodizing, varnishing, veneer, sublimation and application of 3M™ DI-NOC™ Architectural Finishes. Materials such as wood, special metals, carbon, leather, stone and a multitude of other finishes can also be reproduced. Manufactured in Italy and brought to North America by Zaneen Architectural, NODO was the 2017 recipient of the Archiproducts Design Awards. Check out the NODO brochure and watch the video below to learn more.
Thanks for reading the Friday Five!
We hope you'll continue to follow along on a bi-weekly basis as we explore what moves and excites us in the lighting world. Our goal at Solus is to equip our community with the best tools and most up to date information. If you would like to provide feedback, shoot us a message.