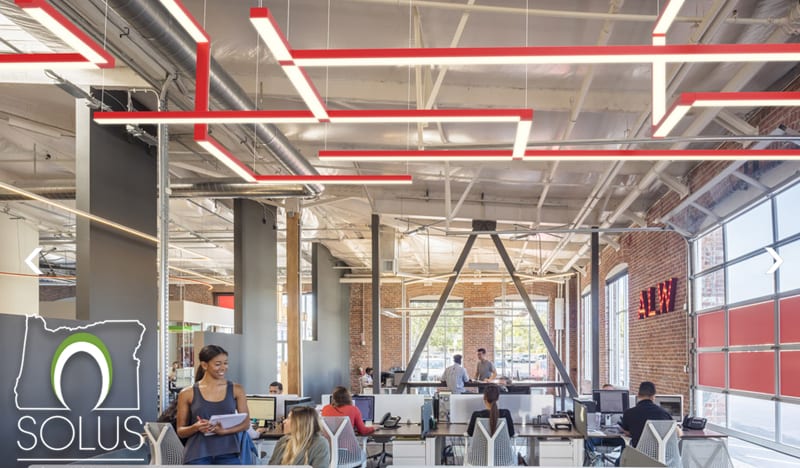 Lego Lighting
Legos have been sparking creativity in young people since 1950. In this week's Friday Five, we'll prove to you that kids don't get to have all the fun. Some of our favorite lighting systems are the ones that allow the designer to create their own customized piece, unique to, and perfectly suited for the space they are designing. These 5 lines from the Solus Linecard offer the building blocks and design tools that allow your creativity to run wild!
Vibia: Algorithm, Ameba, Match & More
Vibia offers many customizable pendants, chandeliers, and surface mount options. Vibia's Professional Area allows designers to draw out their room, generate different configurations based on their unique space, finalize drawings and request a quote.
Vibia designs range from one of their earliest creations, Ameba, to the truly sculptural rigid angled rods of Match, to the harmonious, floating patterns of Algorithm. Vibia also has several options for customizing Illuminated Wall Art.
See all Configurable Products Vibia has to offer then head to the Professional Area to start designing your own unique configuration.
FLOS: Arrangements, Infra-Structure, Running & Tracking Magnet
Arrangements is a new modular, geometric system designed by Michael Anastassiades for FLOS. The pieces can be combined to create glowing, jewelry-like chains. The website has a Drag and Drop Configurator which allows you to add your ceiling height, design your piece and download cut sheets specific to your design's components.
FLOS ARCHITECTURAL offers several configurable systems including Infra-Structure EVO, Running Magnet 2.0, and Tracking Magnet EVO. The newest of these systems, Infra-Structure EVO, uses the same innovative magnetic system used in Running Magnet and Tracking Magnet which allows for an endless configuration of spotlights, lamps and ceiling facing strip lights. The Bauhaus inspired minimalist design rebels against the invisible lighting trend and allows you to add more to a small space without the need for false ceilings. FLOS has redefined track lighting with these elegant, flexible systems. If you'll be in Milan for Euroluce, be sure to check out the Flos exhibit.
Sonneman: Intervals, Suspenders & More
Sonneman has expanded offerings in their customizable Suspenders and Intervals families. These architectural lighting systems are scalable, modular systems of interconnected elements and LED luminaires.
Suspenders now has many configuration categories, including Truss, Freeform, Linear, Zig Zag, Tandem, Tri-Bar, Ring, Grid, Gallery Matrix and Wall & Service Mounts. Keep it simple with Pre-Configurations or use the Suspenders Customization Tool.
An Intervals system is composed of linear beams and multiple connectors to create linear, rectangular, perpendicular and grid configurations to work within the volume and utility of the space. See How Intervals Works.
Sonneman's Featured 2019 Collections also include the Constellation Collection and the Ola Collection with elements that can be combined to make unique configurations as well.
SPI Lighting: Novato Lines + Arcs
Novato Lines + Arcs architectural building blocks provide fundamental design tools that enable endless expression of your lighting ideas, from simple luminous lines to complex patterns with angles and curves. The fully enclosed 3 sided luminous forms have powerful magnetic connections to strengthen the joints and the series is designed for easy installation, with plug & play wiring and minimal hanging hardware and power drops. The configurator allows you to drag and drop the different pieces onto your artboard to to create your custom design. Start creating your design today using the Novato Lines + Arcs Configurator.
ALW: Go Figure & Lightplane 1 3D
Go Figure (RPD07) is a modern, flexible surface or suspended, 2D or 3D lighting system with endless possibilities. This system offers a variety of connecting pieces, the ability to leave non-lit areas, and your choice of uplight or downlight for each section. The Go-Figure Spec Sheet details how to design your system. Downloadable CAD-Ready 3D STEP files, Revit and SketchUp Pro files make it easy to incorporate lighting creations into existing drawings.
Round Lightplane 1 3D (RLP1 3D) constructions are fun collections of one-inch round lightbars and machined aluminum joiners. Lightbars may be two or four feet long. Six different joiner styles are available. Mix and match lightbars, hubs, and colors. The Round Lightplane 1 3D Spec Sheet covers everything you need to know when designing for this system.
Thanks for reading the Friday Five!
We hope you'll continue to follow along on a bi-weekly basis as we explore what moves and excites us in the lighting world. Our goal at Solus is to equip our community with the best tools and most up to date information. If you would like to provide feedback, shoot us a message.