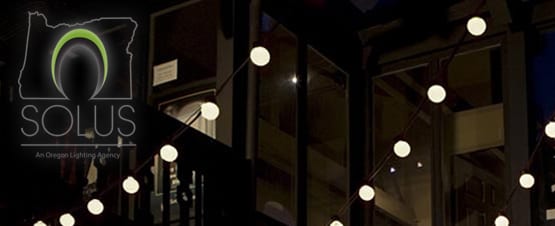 Whether you're looking to add some sparkle to an outdoor patio or need an alternative to pole mounted site lighting, we have the cable mounted lighting system for the job. In scientific terms, a catenary is the curve that a hanging chain or cable assumes under its own weight when supported only at its ends. Much engineering has gone into the below catenary options to ensure long lasting performance and ability to withstand the elements. Keep reading for 4 catenary systems Solus stands behind.
Auroralight's New Catenary Cable Mount System
Auroralight's modern take on Festoon Lighting is shown here at
City Creek Center
in Salt Lake City. It features the compact
Taos HDL11-HL
which is engineered around Auroralight's interchangeable LED module to deliver brilliant LED performance in a small package. Ideal for illuminating patios, al fresco dining areas and outdoor counter tops. Auroralight's new Catenary Cable Mount J-box is machined from solid Billet Brass on ultra-modern CNC mill-turn lathes. The J-box itself has a separate attachment for catenary cables up to ¼" dia. and features a Cable Brake System™ to prevent luminaire slippage due to swag. The rigid swivel mount allows for rigid mount pendants to hang straight with up to 15° of cable swag. Visit
Auroralight's Catenary Mounting System
page to learn more and see the full list of compatible fixtures.
Neri's Catenary Solutions Series
The
Catenary Solutions series
allows nearly every Neri lantern, both Contemporary and Heritage, to be installed on standard cable in any application. Choose from three brackets: simple cable bracket for use on slacked or straight cable, angle-mount bracket offering slope adjustment up to 45 degrees, and a decorative slide-mount bracket. The Catenary Solutions work on standard 3/8" to ½" tension cable and have a water-protected entry and exit path for standard outdoor-rated SJ wiring. Get more details and see some great application images in
Neri Catenary Solutions Brochure
.
Tokistar's Exhibitor Festoon Lighting System
Tokistar's Exhibitor Festoon Lighting System is widely used in amusement parks, shopping centers, city centers and promenades. Durable and weather proof, the line has near unlimited combinations to choose from with single circuit or chasing effects, your choice of of globe shape and color, multiple LED color options and standard and custom socket spacing options to create the perfect festoon lights for any application. Study up on how to specify the Exhibitor and check out the Lightstrings for tree lighting as well as other offerings from Tokistar.
Selux's Lanova Catenary
Selux Lanova
is an attractive LED catenary luminaire perfect for a designer needing improved visual guidance and purposeful light free of intrusive poles that destroy the look of open space. Lanova LED Catenary allows you the design freedom to position the light exactly where it is required with a luminous focal point or a dramatic shadow. The Lanova creates the perfect ambience. A modest light during the day tranforms to a functioning and energizing light by nightfall. The Lanova creates excellent visibility and enhanced safety and security in large public areas such as parks, plazas, and campus squares. Lanova offers a wide range of technical optics. The Lanova family also includes matching pendant and pole mount luminaires. Flip through the
Lanova
 Look Book
 and visit the
Lanova product page
 to learn more.
Thanks for reading the Friday Five!
We hope you'll continue to follow along on a bi-weekly basis as we explore what moves and excites us in the lighting world. Our goal at Solus is to equip our community with the best tools and most up to date information. If you would like to provide feedback, shoot us a message.