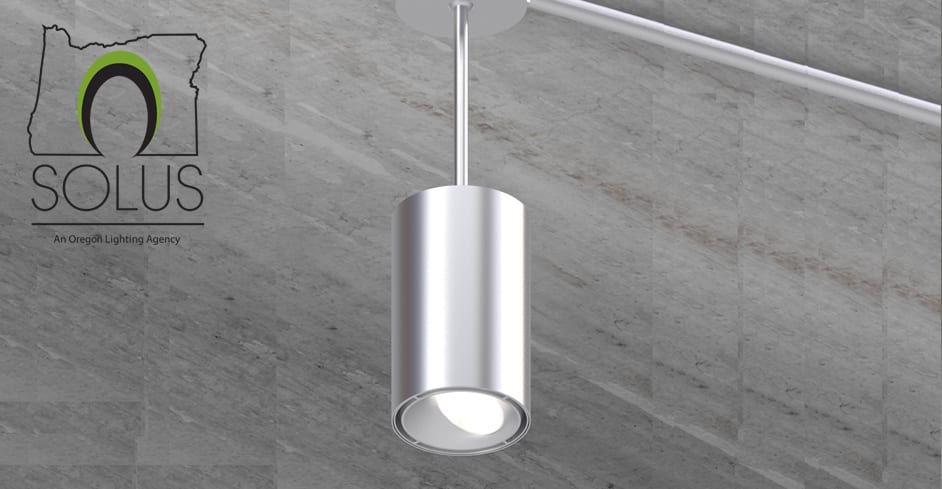 Not Your Average Cylinders
Cylinders are a great solution for open or unfinished ceilings where recessed lighting is not an option. There are many cylinder lights out there, but not all are created equal. We've selected 5 lines with features that stand out from the rest. These options include some gorgeous finishes, a variety of problem-solving mounting types, adjustable downlights, wet listed wall sconces, and decorative reveals.
Lindsley Lighting
Lindsley Lighting's products are characterized by modern design with high performance and extraordinary energy efficiency. Made in the USA with environmentally friendly, RoHS compliant manufacturing methods, Lindsley has the flexibility to modify their designs, going up to 6' in length. The Tule Collection and Reed Collection come in a variety of offerings including surface mount and pendant mount. The Tule Up/Down Pendant is a great way to add indirect light to the space. It's the fine details in the manufacturing that set Lindsley apart, with features like knife edge mounting canopies with no visible hardware and a gorgeous collection of finish offerings, including a corten-like finish, anodized offerings and custom color capabilities. It's really hard to put into words what the quality is like on these luminaires, so don't hesitate to reach out to us about seeing a sample in person.
CSL
CSL's patented GyroShift Technology makes it easy to adjust the cylinder downlight to light the targeted area. The ingenious bezel and ball design allows for tool-less rotation from 0 to 45 degrees and infinite rotation. The GyroShift optics provide uniform light with a round beam at any angle. The beam spread can be changed in the field, with 10 degree, 30 degree and 50 degree options. The GyroShift technology is available in pendant, flush mount and wall mount cylinders, as well as multiples. They offer the right scale for nearly any project, ranging from a 1", 600 lumen, 10 watt option to a 5", 1840 lumen, 30 watt option. The GyroShift Cloak is perfect for open ceilings applications, fitting right over any standard sized junction box, with slots on the sides to feed power to the fixture using surface mounted conduit. Gyroshift Cloak can be used on sloped ceilings up to 45 degrees and with six mounting configurations, three shapes and a variety of finishes.
Intense Lighting
Intense Lighting is a well established manufacturer of cylinder luminaires with a myriad of options, from the smaller scale MX family to the powerful Gravity family, with options like emergency battery back up, tunable white and warm dimming. Intense Lighting's website makes it easy to sort and find the right cylinder for the job. A new collection of wall mount MX luminaires is now available for indoor and outdoor applications, with down and up/down configurations. These architectural wall sconces provide elegant beauty with a slim, minimalistic design. Staying true to the MX family, this new collection is built on the award-winning platform, providing uniform color and consistent performance across any application.
USAI Lighting
USAI strives to stay ahead of the technology curve, designing products from the inside out. They custom design light engines and tailor every luminaire component to maximize performance and aesthetics. Power and beauty are both in play with USAI's sleek architectural cylinders.
USAI's Cylinders
conceal the same powerful LED light engines of their recessed counterparts. With a variety of finish offerings, cylinders can be used in any space as a bold accent or discreet design element with a powerful lumen package.
BeveLED Downlight Cylinders
are available in Warm Glow Dimming and Color Select Tunable White color technologies and come in downlight, wall wash and shipping soon, adjustable. With the 
NanoLED cylinders
, you have the option of including decorative opal glass.
BeveLED Block Surface Mount and Pendant Fixtures
are designed specifically for use with surface-mounted conduit and junction boxes in exposed or industrial ceiling types where recessed lighting is not possible. The BeveLED Block comes in round and square, surface mount and pendant mount, and in both downlight and wallwash distributions.
Focal Point
Focal Point ID+ Cylinder Series was designed to provide a companion to the downlight family with matching aperture sizes. The 3.5" and 4.5" suspended, swivel stem or surface mount cylinders feature a single-piece die-cast reflector, a knife edge and glowing or non-glowing decorative reveal, adding a subtle sophistication to commercial spaces. Standard finishes are black, white and silver or you can specify an RAL color to create a unified aesthetic or make a bold statement. The simple twist and lock design features a field changeable reflector and optic, with beam spread ranging from a 17 degree spot to an 80 degree super wide flood. We love the simple sophistication these bring to any job.
Thanks for reading the Friday Five!
We hope you'll continue to follow along on a bi-weekly basis as we explore what moves and excites us in the lighting world. Our goal at Solus is to equip our community with the best tools and most up to date information. If you would like to provide feedback, shoot us a message.