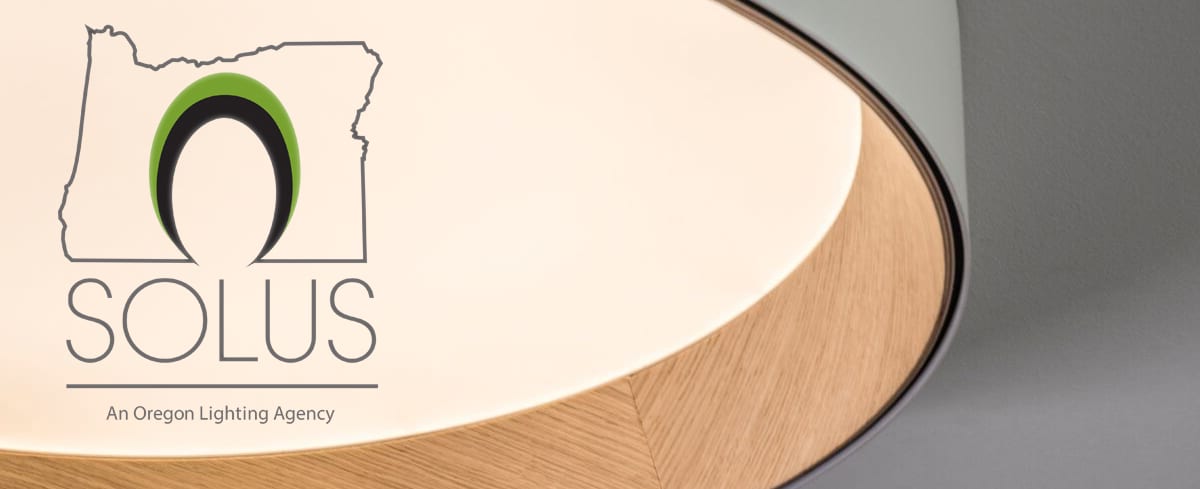 Surely by now, you've witnessed the home organization craze inspired by Netflix's recent release of 'Tidying Up with Marie Kondo.' The KonMari Method encourages people to be more thoughtful in what they choose to own, keeping only things that inspire joy. If you're anything like me, you are already considering design, quality, sourcing of materials, environmental impact of production and lifespan of a product. It's no wonder many of us face decision-making fatigue and burn out. Solus is here to help! This week's Friday Five focuses on honest materials we feel good about, such as wood, metal and concrete. We aim to help you on your search for quality lighting products and have brought you five of our favorites. We've compiled even more on our Honest Materials Pinterest Board including Cerno Group, Tegan Lighting and Auroralight.
VIBIA - DUO CEILING LAMP
The Vibia Duo Ceiling Collection is inspired by sustainability and wellness. The flush-mount surface light is designed for places with a lower ceiling. The inner surface of the shade is lined with oak veneer, enveloped in a matte lacquered outer shell constructed of aluminum. The LED light source provides an even illumination through its polycarbonate diffuser. Duo is available in 4 different styles and 3 finishes. For more, visit A natural touch: Duo by Ramos & Bassols.
ESTILUZ - PILA PENDANT
The Pila Pendant from Estiluz USA features an aluminum body with cork topper. Since its origins in 1969 in Girona, Spain, Estiluz has remained devoted to design, development and manufacturing of innovative decorative lighting products. They remain committed to their values as a family owned business with a focus on sustainability. Curious about cork? Read 'A Crash Course on Cork' at Dwell.com.
LINDSLEY LIGHTING - REED COLLECTION
Lindsley Lighting products are characterized by modern design, high performance and energy efficiency. Manufactured in the USA with the highest quality materials, Lindsley products are green by design, from the solid state light sources to recyclable materials to RoHS compliant manufacturing processes. The Reed Collection, pictured here, features a Xicato LED providing high quality light and color rendering. Lindsley pendants can also be grouped to create unique chandeliers. If a direct/indirect light source is needed, Lindsley also offers the Tule Collection. Check out Lindsley's Green Lighting Manifesto.
ZANEEN - LUZ OCCULTA WOOD
Zaneen's Luz Occulta family is a series of circular luminaires comprised of wood slats with small openings between them, which produce a slight multi-directional light output and beautiful shadow design. The Luz Occulta is offered in a variety of sizes, in wall, pendant, table and floor lamp models, with dark oak or natural oak, in combination with a bronze or brass finish. The E26 models allow for use of screw in LED lamping for increased energy efficiency.
NERI - BRENTA CONCRETE COLLECTION
Made in Italy by skilled crafts people,
Neri's Brenta series
 is inspired by the unconventional use of concrete in the recent history of architecture. Brenta brings sophisticated indoor shapes to the world of outdoor lighting and furniture, complementing it with powerful optics, Wi-Fi antennas and chargers. This concrete formulation is easy to maintain and made to last with high impact, abrasion and chemical resistance. View the
Brenta models
and
get a glimpse into the manufacturing process.
Thanks for reading the Friday Five!
We hope you'll continue to follow along on a bi-weekly basis as we explore what moves and excites us in the lighting world. Our goal at Solus is to equip our community with the best tools and most up to date information. If you would like to provide feedback, shoot us a message.